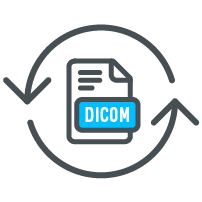 Overview
SoliPACS™ FileGate
Managing Electronic Medical Records (EMR), SoliPACS™ FileGate takes the complexity out of making healthcare facilities completely paperless. FileGate digitizes and transforms any graphical reports and documents (PDF, DOC and JPG files) into DICOM format for easy accessibility. FileGate cuts costs and greatly reduces errors in the management and filing of patient records. SoliPACS™ FileGate: access a patient's entire medical history with just a few clicks.
Features
• Significant error reduction by eliminating manual data entry
• Intuitive DDC Web Viewer interface
• Easy to deploy, instant access to patient reports anytime, anywhere. User friendly and easy to learn.
• Integrates patient information from analog devices and modalities with HIS, LIS, NIS, RIS, EIS and PACS
• Patient ID (PID) Numbers are automatically extracted from reports, documents, and images into DDC Server.
Specifications
• Integration of analog patient information from HIS, LIS, NIS, RIS, EIS and PACS
• Instant access to all images from non-DICOM devices and modalities
• Modular design for flexible system extension
• Minimum Hardware Requirements Pentium III 500MHz CPU or greater, 20 GB HDD or greater, 512MB RAM or greater, 100/1000 Mbps NIC.
• O/S Supported: Microsoft Windows XP Professional SP2, Microsoft Windows 2000 Professional.
• DDC Server is required to store and query reports.