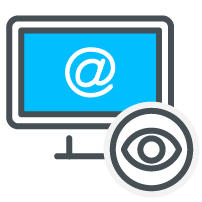 Overview
SoliPACS™ Web Viewer
From small clinics to large hospitals, SoliPACS™ Web Viewer enables radiologists and physicians to view full-sized, high-resolution DICOM-compliant images and compare them to examination results, utilize advance image enhancement tools and select key images for review. Due to its Windows-based interface and its use of Internet Explorer, it is exceptionally easy for doctors to view patient images from multiple modalities. SoliPACS™ Web Viewer therefore immediately optimizes your workflow.
Features
• Supports standard DICOM images from any modality for unlimited modality connections.
• Enterprise mobile image reading.
• Low cost of ownership, since no separate hardware and software required
• Hanging protocols allow easy comparison of patient images for improved diagnostic accuracy
• Easy and fast integration of existing HIS, links images to corresponding patient data
• Independent image storage
• Scalable User Licensing (allows growth from a small 3-user clinic to a large hospital with 100+ users)
• Studies can be assigned to user groups.
Specifications
• Wide variety of viewing tools: Enlarge / Zoom, Window Leveling, Rotate / Mirror, Cine / Stack, MPR, Measurement, Shuttering and Layout
• Dual monitor support
• Supports Web Access to DICOM Objects (WADO)
• Shares workflow and performs load balancing. Saves costs by utilizing existing hardware space.
• DICOM 3.0, HL7 and HIPAA compliant
• 3D Filtering including Maximum Intensity Projection (MIP), Minimal Intensity Projection (MinIP), and Volume Rendering, real-time MPR and curve MPR
• Optimizes network bandwidth usage and storage space.
• Users utilize Internet Explorer (9 and later) to view images