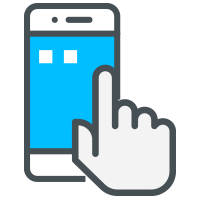 Overview
MobiPACS™
Working in conjunction with PACS (Picture Archiving and Communication Systems), MobiPACS™ applications allow clinicians to retrieve, view and compare any type of medical image. A range of MobiPACS™ software applications ensures that even voluminous image data can seamlessly move through the medical workflow.
Features
• MobiPACS™ Server
Dedicated server used to store, process and retrieve all image files intended for mobile devices.

• MobiPACS™ App
Multi-functional application for easy reminding, reporting, image comparison and effortless photo and video transmission.

• MobiPACS™ Web Viewer
Image viewing from any internet-enabled end device regardless of its browser and operating system.

• MobiPACS™ Share
A cloud-based platform for medical image sharing outside of hospital WiFi networks for ultimate mobility.
Specifications
• Fully scalable for easy integration into small and large institutions.

• Available either as turnkey or tailored solutions.

• Very high system reliability due to complete data redundancy.

• Based on off-the-shelf hardware (e.g. Windows) for inexpensive integration into existing systems.

• Full compliance with safety and security standards.

• Compatible with mobile devices for time and location-independent access to medical information.

• Doctors have life-saving diagnostic and treatment options at their fingertips for the benefit of their patients.