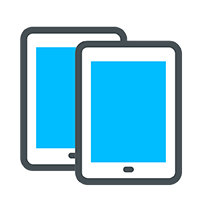 Overview
UDE App
Ubiquitous Diagnostic Environment(UDE) App
The UDE App converts any standard iPad Pro into a standalone DICOM server, viewer, display, and Al all in one.
The application works with PACS, medical imaging modalities, or any DICOM compatible software, allowing exam images to be directly transmitted to an iPad via DICOM communication for offline display and storage.
While away from a traditional medical workstation, a user can simply use two iPad Pros installed with the UDE app and a laptop to create a compact mobile workstation.
The advancement of this versatile application facilitates communication of clinical information and overcomes traditional workstation barriers for the optimal outcome.
Download UDE APP Now
Learn more about UDE App
https://www.ebmtech.com/ude/#/
Download brochure
UDE DM
Features
-FDA Class II Clearance for Medical Diagnosis
-Support Al-based medical imaging modeels/server integration
-Customizable settings for DICOM communication
-Support mammography hanging protocol
-Support studies/series sharing through QRcode or Airdrop
-Support stacked images display, annotation/measurement, zoom in/out and window/level adjustment
Specifications